"Music is the universal language of mankind," (Henry Wadsworth Longfellow). It is a language that encompasses creativity in its highest form.
Music Vision Statement
Music is a unique and powerful form of communication that can change the way people feel, think and act. It combines creativity with emotion, enabling personal expression, reflection and development.

Our music curriculum aims to provide all students with a high-quality music education which
engages and inspires them to develop a life-long love of music, increases their self-confidence, creativity, and imagination, and provides opportunities for self-expression and a sense of personal achievement.

Modelled on the National Curriculum, we offer opportunities for students to develop their talents in all aspects of music including composition, singing and appreciation. We work closely with the East Riding Music Service who deliver lessons including 'Music for Well-being' and Whole Class Ensemble alongside Charanga.

Music is a unique way of communicating that can inspire and motivate students. It is a vehicle for individual expression, and it can play an important role in the personal development of all. Music can reflect the culture and society that we live in or come from, and the teaching and learning of music enables students to learn more about the world we live in. Music can play an important role in helping students feel part of a community. We provide opportunities for all to create, play, perform and enjoy music; to develop the skills to appreciate a wide variety of musical forms, and to develop the confidence to make informed judgements about music.
We work in close partnership with the East Riding of Yorkshire Music Hub:
Music Award
In Autumn 2020 the local authority recognised our commitment to Music and awarded us the Music Mark Award. Schools can only join Music Mark through their local music education hub who recognised that we met the following criteria:
evidence of a willingness to engage in development conversations related to improving music provision

recognition of the value of music education as part of a broad and balanced curriculum

a strategy for music in place which provides for all children
The Music Mark supports quality music education for all and offer a collective voice for all those involved in music education. As a subject association for music education, they aim to improve the musical and social outcomes for children and young people in and out of schools.
At Cowick Primary School, we have music ensemble lessons for years 3,4,5 and 6. (Percussion in Y3 and 4; Ukulele in Y5 and 6).
During the academic year of 2021 - 2022 and in response to the global pandemic, all classes received 'music for wellbeing' lessons. These were so successful that we have incorporated music for wellbeing into our music syllabus.
We have received the Music Mark Award in 2020 and 2021 and again for this year, 22/23.
"Research shows that at-least some musical education has a positive impact on social and cognitive development of children. And these effects are long lasting – better hearing, better motor skills, improved memory, better verbal and literacy skills."
– Alan Harvey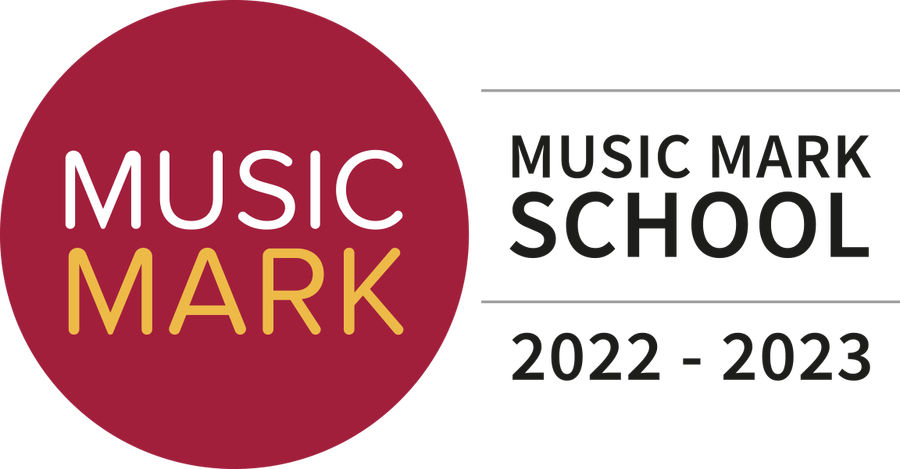 Mr Wilkinson has made a video for us all about playing brass instruments.
If your child would like to take lessons, please contact the office for more information.
"Without music, life would be a mistake" - Friedrich Nietzsche